America's Workforce – Empowering All
Reflecting a commitment to a robust and competitive American labor force, the 2018 National Disability Employment Awareness Month  (NDEAM) theme is "America's Workforce – Empowering All!" Observed each October, NDEAM celebrates the contributions of workers with disabilities and educates about the value of a workforce inclusive of their skills and talents.
The Philadelphia "Employment 1st, Employment NOW!" Steering Committee is once again celebrating this event with a month of employment success stories. Each day we will be posting another success story about someone who is contributing to their community through employment. For those who have requested to receive our employment announcements, you will receive the link to the story in your mailbox. We invite you to join us as we celebrate the successes of people with disabilities working in our communities!
Dare to Dazzle and Dress to Impress with Vicki!
October 9 – Vicki
Vicki loves jewelry, fashion, and art, and is actively involved with her passions as a Receiving Associate at Burlington Coat Factory. Vicki is responsible for processing incoming shipments of jewelry, watches, clothing, and accessories. She unwraps, sorts, hangs, and sizes the merchandise, and puts sensors on the pricier items. Vicki has an eye for detail, which serves her well with the intricate task of unpacking carefully wrapped shipments of jewelry.
Vicki has developed a great deal of independence – she now travels and works the first two hours of her shift on her own! New to the working world, her stamina was initially challenged working long shifts on her feet. Her stamina and overall energy have improved. She is motivated to succeed in the job that she loves, and always shows that she is working her hardest.
Vicki enjoys socializing with her coworkers during break times, proudly showing off pictures of her nieces and nephews and sharing her aspirations to travel to Paris someday. She has really come out of her shell. Her mother tells us:
"I feel good that she is working because it gets her out, and she gets to mingle with adults. It's a positive thing. She's been getting up in the morning at 5:00… I think it's great that she is working, she loves her job."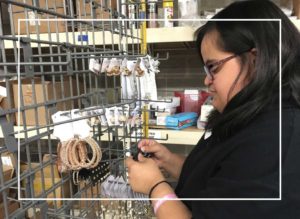 You can see the intense focus on Vicki's face as she processes a jewelry shipment.
 – submitted by Community Integrated Services (CIS)