Celebrating Our Successes!
Reflecting the important role that different perspectives play in workforce success, this year's National Disability Employment Awareness Month (NDEAM) theme is "Inclusion Drives Innovation." Observed each October, NDEAM celebrates the contributions of workers with disabilities and educates about the value of a workforce inclusive of their skills and talents.
The Philadelphia "Employment 1st, Employment NOW!" Steering Committee is celebrating this year's event with a month of employment success stories. Each day you will be receiving an email containing a new story about someone who is contributing to their community through employment. We invite you to join us as we celebrate their successes!
Alan Woodworks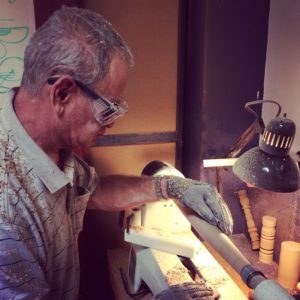 Alan learned the craft of woodworking from his father at a young age, and always found it enjoyable and therapeutic. He began to explore his talent in the context of employment, and two years ago launched Alan Woodworks, a small artisan business producing hand-made woodenware for the home. Alan's wares include serving pieces, candlesticks, and more. This business venture has afforded him the opportunity to use his skills and earn income by doing what he loves.
Friendly and outgoing, Alan loves to talk about his work. He'll proudly show you his latest works, discuss his process, and talk about the new skills he's learned. Alan is a member of Next Fab, a Philadelphia co-working space for inventors, crafters, designers, and anyone who wants to create. In Next Fab, Alan has found far more than a workspace and access to tools; he has found himself in a community of makers that appreciate and inspire his art. Walking into the space with Alan, his pride is palpable as he is greeted by staff and other members who know him by name. He truly feels at home in this space, as evidenced by the progress in his work since becoming a member.
Alan sells his wares through his website, at the Center for Art in Wood's gift shop, as well as at craft fairs and local events. Alan recently ran into some people from his past at a community event, and they were shocked and delighted by the quality of his work and his upbeat mood! Alan's livelihood has afforded him an income, access to an inspiring community, and an improvement in his overall quality of life.
~ submitted by CIS
SaveSave
SaveSave
SaveSave